For up to the minute Weather click the National Weather Service logo
Hurrican Preparedness
Both the National Hurricane Center and the American Red Cross have developed specific guidelines for Hurricane supply kits. A hurricane survival kit is merely a specialized version of your disaster supply kit. It should include provisions to carry you through a week or two after a storm or other disaster. Our hurricane preparation page includes additional recommendations based on experiences of real people who have been through similar situations. Remember, the more water, food, and other items you have the better off you will be in the event of an emergency. You will be able to assist family and friends if needed.
Some companies include pre-assembled survival kits that include water purification tablets and more. They can be useful in addition to your own kit.
Our own version increases some of their recommendations and includes some additional items that are helpful in our experience.
Remember to print hard copy of any documents you need - instructions, tips or anything in case you have no power.
Water - at least 1 gallon daily per person for 7 to 10 days. Katrina and Wilma should have emphasized the importance of having sufficient water on hand. Don't forget some for your pets.
Food - at least enough for 3 to 7 days
— non-perishable packaged or canned food / juices
— foods for infants or the elderly
— snack foods (Peanut butter; mixed PBJ; breakfast bars; crackers; canned fruit; raisins; chips;
— non-electric can opener
— cooking tools / fuel
— paper plates / plastic utensils / paper cups
— trash bags and duct tape - useful for clean-up, or patching leaks in an emergency
An ax to use if you stay and need to escape from your house - or other uses
Blankets / Pillows, etc.
Clothing - seasonal / rain gear/ sturdy shoes
First Aid Kit / Medicines / Prescription Drugs
Special Items - for babies and the elderly
Toiletries / Hygiene items / Moisture wipes
Bug spray, Cortisone for bug bites
Sunscreen & Lotion
Tarp to cover holes if needed.
Bleach
Water purification tablets
Waterless soap saves water for drinking
Flashlight / Batteries
Radio - Battery operated and NOAA weather radio
Battery operated television, with extra batteries.
Cash - Banks and ATMs may not be open or available for extended periods. Make sure you have small bills because it will often be difficult to get change, I you only have a $100 and water is $10 for a case and you are limited to one case, you do not want to have the choice of paying $100 or having no water.
Keys to house, cars, boats etc
Toys, Books and Games
Important documents - in a waterproof container or watertight resealable plastic bag
— insurance, medical records, bank account numbers, Social Security card, etc. Don't forget your re-entry documents (e.g. stickers or passes). Many barrier islands require some documentation in order to return. Keep important phone number here. You may know them, but a loved one may not.
Tools - keep a set with you during the storm. A pocket knife, nails, a hammer and rope are important elements. Towels and buckets are useful too if you develop a leak.
Vehicle fuel tanks filled
Pet care items
— proper identification / immunization records / medications
— ample supply of food and water
— a carrier or cage
— muzzle and leash

County Law Enforcement
County Public Safety Fire/Rescue
State, County and City/Town Government
Local Hospitals
Local Utilities
Local American Red Cross
Local TV Stations
Local Radio Stations
Your Property Insurance Agent

Review the FEMA Evacuation Guidelines to allow for enough time to pack and inform friends and family if you need to leave your home. FOLLOW instructions issued by local officials. Leave immediately if ordered!
Consider your protection options to decide whether to stay or evacuate your home if you are not ordered to evacuate.

Tornadoes – they are often spawned by hurricanes.
The calm "eye" of the storm – it may seem like the storm is over, but after the eye passes, the winds will change direction and quickly return to hurricane force.
Contacts
Keep a list of contact information for reference.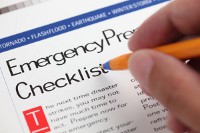 Risk Analysis
Online hazard and vulnerability assessment tools are available to gather information about your risks.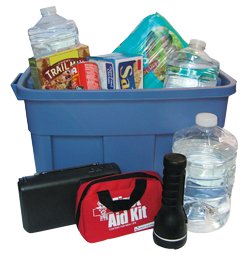 Everyone needs to be prepared for the unexpected. Your friends and family may not be together when disaster strikes. How will you find each other? Will you know if your children or parents are safe? You may have to evacuate or be confined to your home. What will you do if water, gas, electricity or phone services are shut off?
Supplies Kit
Put together a basic disaster supplies kit and considerstorage locations for different situations. Help community members do the same.
Emergency Plans
Develop and document plans for your specific risks.
Health & Environment
Follow guidelines to guard your community's health and protect the environment during and after the storm.
Evacuation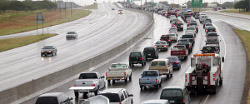 When waiting out a storm be careful, the danger may not be over yet...
Be alert for: